Whenever drones are mentioned, many tend to think of uncrewed aerial vehicles (UAVs). For maritime applications, however, remotely operated underwater vehicles (commonly referred to as underwater ROVs or underwater drones) are king. Underwater ROVs, like their airborne cousins, have become widely adopted in recent years. Just as UAVs have democratized the skies for many, industries and institutions across the globe whose work requires them to journey into bodies of water are looking to underwater ROVs as affordable solutions to access these depths.
What are underwater drones and ROVs?
As their name suggests, underwater drones or ROVs (short for remotely operated vehicles) are submersible, tethered, and highly maneuverable drones designed to operate underwater. Like aerial drones, underwater ROVs come in a variety of sizes. They can be outfitted to meet the unique needs of a multitude of maritime and subsea industries and applications.
Thanks to their versatility and cost-effectiveness, many agencies and organizations that traditionally relied upon expensive submarines and human divers to carry out their underwater operations have all but replaced them with underwater ROVs. These include but are not limited to asset monitoring, infrastructure inspections, public safety, search and rescue/recovery, defense and security, academia, and environmental conservation/preservation.
How are underwater drones being used?
Thanks to their compact size and 360° omnidirectional maneuverability, underwater drones are a safe and efficient way for maritime and subsea industries, agencies, and organizations to remotely evaluate and monitor their assets and conduct inspections while reducing both operational costs and human risks. Below are some examples of underwater ROVs' real-world applications:
Aquaculture
Fisheries and other aquacultural enterprises can utilize underwater ROVs to remotely assess their fish farming operations. Traditionally, fish farmers would have to do so manually by making the dives themselves.
Shipping
Underwater drones enable shipping companies and shipyards to perform routine ship evaluations remotely and efficiently. They can also perform detailed hull inspections, shipyard activity monitoring, and damage assessments.
Offshore Energy
Underwater ROVs are a safe and cost-effective way for offshore energy companies to remotely carry out detailed industrial inspections. They can perform maintenance at offshore platforms without having to put engineers in harm's way.
Utilities
Utilities providers such as power and telecommunications companies can deploy underwater drones to remotely assess and monitor subsea or submerged structures. Underwater drones can also track underwater pipelines, power cables, and fiber optic data cables.
Public Works
Underwater drones are ideal for agencies and organizations that maintain various water-related public works. They routinely carry out detailed structural and safety inspections of waterways and ports. They can also monitor submerged structures like bridge piers and abutments, dams, and other subsea platforms.
Search and Rescue/Recovery
Thanks to their ability to house variety of add-ons (such as buoyant robotic arms and other search and recovery tools), underwater ROVs are perfectly suited for a range of underwater search and rescue as well as salvage and recovery operations. Their ability to retrieve and carry much heavier payloads than human divers is an obvious advantage. In situations that require deployment of human divers, underwater drones can identify potential dangers to the environment before sending in human assets.
Defense & Security
Since you can operate underwater ROVs remotely from a distance, they can scout, locate, identify, and eliminate dangerous underwater threats that may be present within naval theaters of operations without the need to place human assets in jeopardy.
Academia
Since they are much more affordable than cost-prohibitive submarines, underwater ROVs greatly lower the barrier to entry for educators and students studying marine biology, naval engineering, and other maritime fields. Underwater drones allow educators to safely and efficiently conduct detailed subaquatic explorations to uncover the mysteries of the vast oceans.
Marine Conservation and Preservation
Thanks to their much smaller footprint and relatively quiet operation, underwater ROVs are also important tools for organizations working in marine conservation and ecological preservation. They facilitate the non-disruptive monitoring of marine environments, home to hundreds of thousands of aquatic species, as well as the diverse habitats that support them.
Underwater Drones: Product Highlights
If you're in the market for an underwater drone, be sure to check out the following options from Qysea that Adorama has to offer: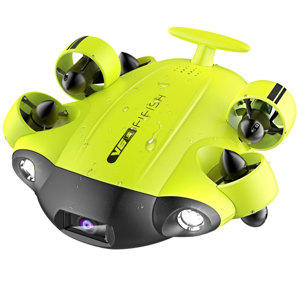 An evolution of Qysea's original V6 compact underwater ROV, the Qysea FIFISH V6s sports a 60% increase in battery capacity (9000 mAh / 97.2Wh Lithium-Ion battery). This enables extended dive times of up to 6 hours. It is rated for depths of up to 100m (328 feet) and has a maximum speed of 1.5 m/s (3 knots).
The Qysea FIFISH V6s also has a fully powered and neutrally buoyant robotic arm capable of applying 100N of clamping force (with clamp lock function) and 100N of towing force, allowing pilots to drag, drop, tow, and salvage objects with ease. It also includes 4000 lumen LEDs and an integrated 4K UHD camera powered by a 12MP 1/2.3″ Sony CMOS sensor with a 166° field of view and is capable of 4K video (25/30 fps), slow motion video (up to 240 fps in 720p), and DNG RAW image capture. The Qysea FIFISH V6s is an ideal underwater drone for underwater photography, salvage rescue, fish farming, and pipeline or ship inspection applications.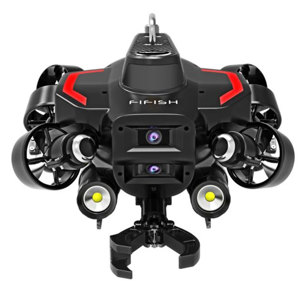 The Qysea FIFISH PRO W6 is an advanced, highly customizable industrial-grade underwater ROV platform. It's has features to meet the needs of a diverse range of industry-specific applications. It features a removable 388.8Wh lithium-ion battery capsule with up to 8 hours of continuous battery life (depending on operating conditions). Plus, it includes a quick charging mode that can charge the battery to 70% in just one hour.
Thanks to its all-new powerful and patented Q-Motor system, the Qysea FIFISH PRO W6 has a maximum speed of 2 m/s (4 knots) and can reach depths of up to 350m (1148'). The included robotic arm can deliver over 196N (20kgf) of clamping force. Meanwhile, the five Q-IF interface ports onboard allow pilots to integrate other add-ons (such as 2D and 3D imaging sonars, augmented reality ruler, compass ruler, and other inspection and measurement tools) to greatly expand the ROV's capabilities.
It also comes equipped with 12000 Lumen LEDs and dual 4K UHD cameras powered by 12MP 1/2.3″ Sony CMOS sensors. It offers 100° vertical and 166° horizontal fields of view. Additionally, it's capable of 4K video (25/30 fps), slow motion video (up to 240 fps in 720p), and DNG RAW image capture. The Qysea FIFISH PRO W6 also features a wealth of telemetry and guidance systems such as its built-in Station Lock algorithm, Underwater Quick Positioning System (U-QPS), and patented Sonar Array System.
Together, these features provide real-time location 3D mapping, POI recordings, three-dimensional dive paths, smart distance lock, altitude lock, collision avoidance, and terrain contour scanning functions. Finally, they enable underwater position locking and one-click return to the ROV's original location.